---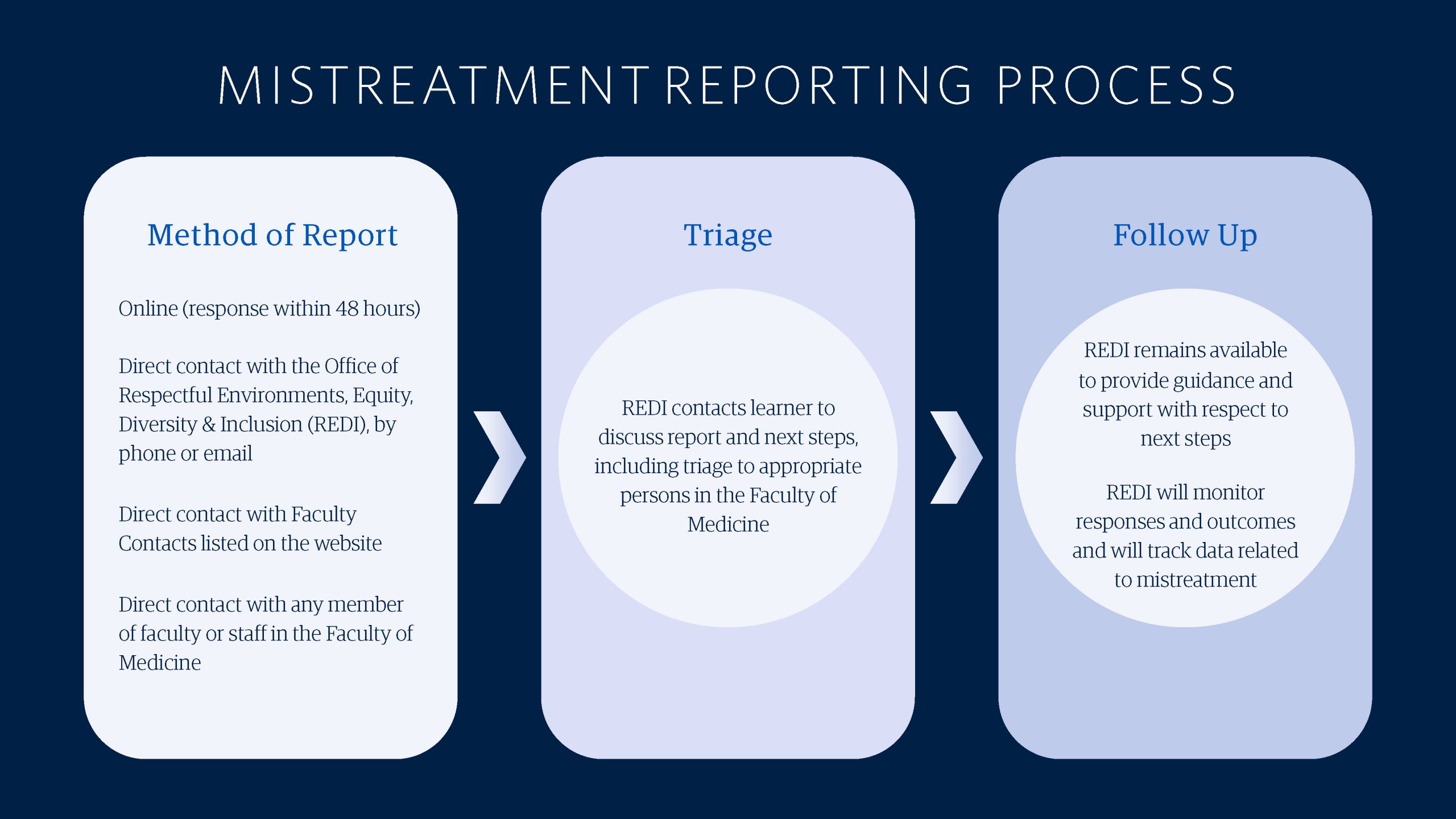 ---
Your Reporting Options
Faculty of Medicine encourages all learners to report their experiences or concerns about mistreatment in the learning environment.
You may report a concern about mistreatment in the learning environment using the online reporting tool, or by contacting the Office of Respectful Environments, Equity, Diversity & Inclusion (REDI) or any of the faculty contacts listed on this website.
You may report on behalf of yourself, on behalf of someone else, or as part of a group of learners identifying a problem in the learning environment.
Online reports can be confidential or anonymous and all online reports remain in the REDI Office.
Your options will be explained and discussed with you before any further steps are taken.
You are encouraged to seek support and direction from anyone within the Faculty of Medicine with whom you feel comfortable discussing your situation.
All members of the Faculty of Medicine community are encouraged to report concerns about mistreatment even whey they have not personally experienced mistreatment but they have witnessed disrespectful or unprofessional conduct that is disruptive to the learning environment.
You will not be subject to any negative consequences if you report a concern in good faith even if you were mistaken about the conduct and it was not mistreatment or unprofessional conduct. It is unprofessional to make a false report or to report a concern for a malicious purpose.
All reports will be handled under the Process to Respond to Reports of Mistreatment or Unprofessional Conduct . Please see the Process Maps for more information.
---
Reporting Processes
Reporting Mistreatment in the Learning Environment
The REDI Office and faculty contacts can help you by:
Discussing your options.
Referring your concern to the appropriate person.
Identifying and helping you contact support resources.
Assisting you to file a complaint and request an investigation if that is your choice.
Please see the Support Resources page for more information about resources and contacts available to you.
Reporting Sexual Misconduct
If you are reporting a claim of sexual misconduct, including sexual violence or sexual assault, the REDI Office will provide information and discuss options with you. These could include filing a police report or filing a Disclosure or Report under the UBC Sexual Misconduct Policy SC17. Whatever decision you make about reporting the incident you are encouraged to contact the Sexual Violence Prevention and Response Office (SVPRO) for information, support and other assistance.
In situations where a learner is in crisis or in urgent need of care the Faculty of Medicine will take appropriate steps immediately to ensure the learner is connected to the most appropriate level of care.
Reporting Equity Concerns
If you are reporting a concern related to equity, including discrimination on the basis of one of the enumerated grounds in human rights legislation, the REDI Office will discuss your options which may include referral to the UBC Equity Office (See UBC Discrimination Policy SC7).
---
Triage and Follow Up